Old Jews Telling Jokes
December 25, 2019 - January 19, 2020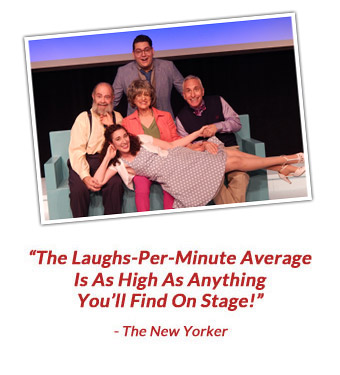 Get ready for an outrageous evening of one-liners, double-entendres, songs, skits, and hysterical routines sure to triple you over with laughter!
Created by Peter Gethers and Daniel Okrent, OLD JEWS TELLING JOKES showcases five actors in a comedy that pays tribute to and reinvents classic jokes of the past and present.

Like rye bread, kosher pickles and bagels, this show is for everyone! You'll laugh 'til you plotz.
Warning: Adult (Bawdy) Humor - 18+
Running Time:
approx. 90 minutes (no intermission)
Show Times:
Wed. 7:00PM, Thu. 2:00 & 7:00PM; Fri. 8:00PM;
Sat. 2:00 & 8:00PM; Sun. 2:00PM
- Added Show: New Year's Eve (Tue. 12/31/19) at 8PM
- No show Wed. Jan. 1st
My Son The Waiter, A Jewish Tragedy
March 12 - Aprl 12, 2020

Ninety minutes of non-stop laughter! If you ever longed for something, If you ever desired it with all your heart, If you were willing to wait tables for 29 years to pursue your dream then My Son The Waiter will give meaning to your Life!
The show is Actor/Comedian Brad Zimmerman's hilarious and inspiring story about the grit and passion required to 'make it' as an artist and the sweet rewards that come from never giving up on your dream. Specifically, Brad moved to New York City and "temporarily" waited tables for 29 years, while continuing to pursue his dream of comedic acting. He never gave up and many years later, he's opened for Joan Rivers, Brad Garrett and the famed George Carlin and now has his own touring show that is as profound as it is entertaining.
Running Time:
approx. 90 minutes (no intermission)
Show Times:
Thu. 2:00 & 7:00PM; Fri. 8:00PM;
Sat. 2:00 & 8:00PM; Sun. 2:00PM
Herberger Theater Center
222 E.Monroe
Phoenix, AZ