Old Jews Telling Jokes
February 6 - March 15, 2020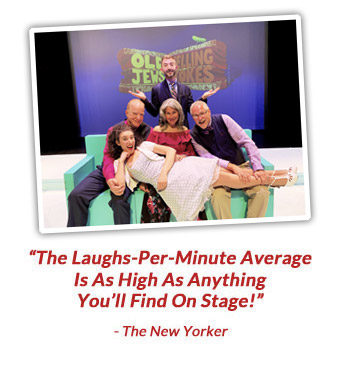 Get ready for an outrageous evening of one-liners, double-entendres, songs, skits, and hysterical routines sure to triple you over with laughter!
Created by Peter Gethers and Daniel Okrent, OLD JEWS TELLING JOKES showcases five actors in a comedy that pays tribute to and reinvents classic jokes of the past and present.

Like rye bread, kosher pickles and bagels, this show is for everyone! You'll laugh 'til you plotz.
Warning: Adult (Bawdy) Humor - 18+
Running Time:
approx. 90 minutes (no intermission)
Show Times:
Thu. 3:00PM & 8:00PM, Fri. 8:00PM
Sat. 3:00PM & 8:00PM, Sun. 3:00PM & 7:00PM
Click here for Parking Information
Notice To All Patrons

All performances of all of our shows in several different cities will be going on as scheduled. No performances will be canceled. We are not issuing any refunds. We expect audiences of about 100 patrons at each performance this week well below the recommended cut off of 250 for 'large gatherings'. The show runs 80+ minutes with NO intermission. Anyone wishing to be seated off to a side, by themselves, not near any other patron can ask the house manager to be so seated. Thanks for your continued cooperation and support for live theater.