Old Jews Telling Jokes
July 14 - August 14, 2022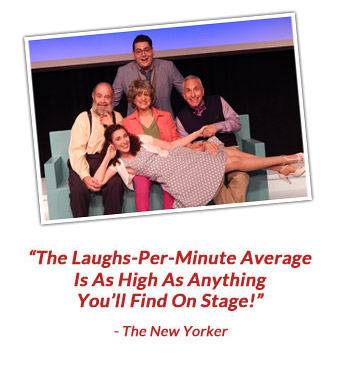 Get ready for an outrageous evening of one-liners, double-entendres, songs, skits, and hysterical routines sure to triple you over with laughter!
Created by Peter Gethers and Daniel Okrent, OLD JEWS TELLING JOKES showcases five actors in a comedy that pays tribute to and reinvents classic jokes of the past and present.

Like rye bread, kosher pickles and bagels, this show is for everyone! You'll laugh 'til you plotz.
Warning: Adult (Bawdy) Humor - 18+
Running Time:
approx. 90 minutes (no intermission)
Show Times:
Thu. 2:00 & 7:00PM, Fri. 8:00PM, Sat. 2:00 & 8:00PM, Sun. 2:00 & 7:00PM
(tickets coming soon)